I am so pleased that other countries were able to watch us elect this man last Tuesday. I am very excited for what he means for our future. When he speaks I am overwhelmed with a great sense of pride. I am honored to have him representing all of us in our relationships abroad and home. Congratulations to the Obama's and to us. Our country is a better place today.
That of course is the big news.
In house news we would like to update that we have picked
cork flooring
for the kitchen. Natural and I guess you can drop a lot more glass on it with minimal breaking.
The photo below is the slate tiles that are going in the bathroom.
And all of our appliances are in...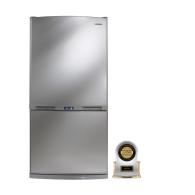 Kevin's sister and fiance came in this weekend from San Francisco. We are still trying to convince them to move to Ann Arbor although we love visiting them. It has been decided that due to all of our new homes, apartments, the economy, etc., we will all be making our Christmas gifts. Sweet. So I will be updating on that after christmas on the off chance those guys are reading this right now.
Here's to this week being as good as the last.